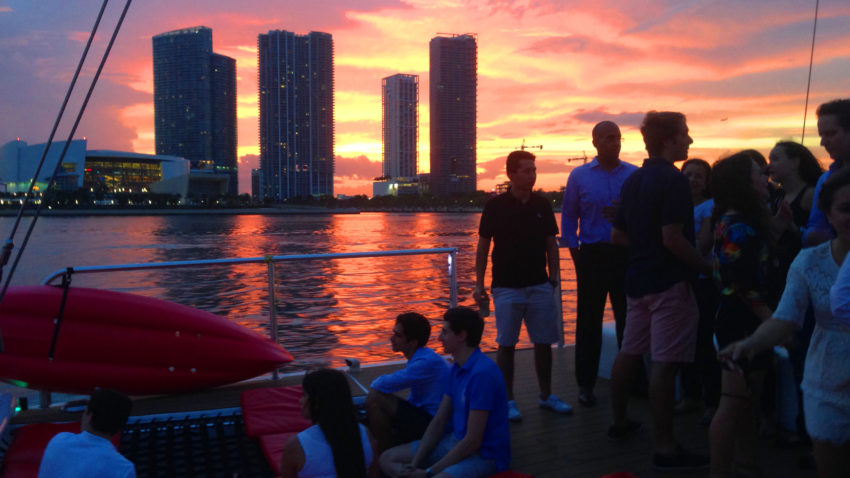 Categories:
Come for some fun things to do in Miami at night and see Miami's world famous skyline with an incomparable view from the water. This Miami Night Cruise is a yacht party you won't want to miss. With romantic views of Miami under the moonlight and reflections of the city's stunning skyline on the water, you and your friends will be swept away by the beauty of this magical city. Party beneath the open sky as we cruise along Miami Beach's historic Arts District, Biscayne Bay and South Beach. You won't forget this incredible Miami experience!
You will have a fantastic time on this special 2 hour excursion from the moment you climb on board our fully-equipped 50 foot sailing yacht!
The cruise includes complimentary beer, wine, soft drinks and hors-d'oeuvres.
Our night boat tours of South Beach, Miami will surely make it to the top of your list of fun things to do in Miami this weekend!
Soak in the skyline of downtown Miami with a premium view from the water and complimentary beer, wine and hors d'oeuvres.
Be part of Miami's world famous nightlife on this popular Miami yacht party as we cruise some of the hottest locations in the city. Come vibe with the beautiful people!
Dress:
Dress comfortably for the cruise, but also be ready to strut your stuff with your date afterwards! Miami's famous nightlife awaits you after the cruise, so get out there and light up the town! For the ladies, we suggest: Low heeled shoes, light sweaters or wraps. Beach attire is discouraged For the gentlemen, we suggest: Collared shirts and slacks.B

Amenities:
What makes our Miami beach yacht party one of the the best things to do in Miami at night are our well equipped sailing yachts with first class customer service, robust sound system, private restrooms, ample standing room, covered sitting and serving areas.
Come discover for yourself why our Miami Beach Yacht Party is one of the most fun things to do in Miami! We provide first class customer service and our fully-equipped sailing yachts include robust sound systems, private restrooms, ample standing room, covered seating and serving areas.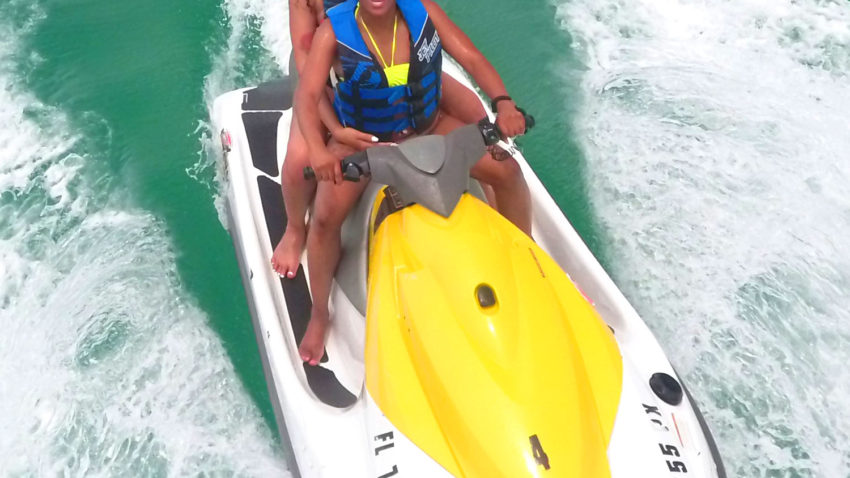 Categories:
Come out for some fun in the sun on our 90 minute Jet Ski Tour of Star Island Celebrity Mansions Jet Ski the surrounding Venetian islands on Biscayne Bay …Palm Island, Hibiscus Island, Monument Island and the world-renowned Fisher Island, home of many celebrities to include Oprah and Tom Cruise!
Enjoy the sun and blue waters, catch a glimpse of dolphins and manatees aboard our state of the Yamaha Jet Skis with a narrated tour of these fabulous islands, their historic architecture, and homeowners!
Start at Millionaires Row in the heart of Miami Beach …through South Beach with the magnificent Art Deco architecture of the '20s and '30s, an era gone by, to the islands of the rich and very famous!

Come experience what makes our Miami Beach Jet Ski Rentals and Miami Jet Ski Tours the best in the business
Tours Daily by request
*2 Jet Ski rentals minimum B
Reservations Required
Categories:
Whether you are looking for fun things to do in Miami on the weekend or during the week, Miami Beach Ocean Watersports is your one-stop location for the best in Miami Watersports. You can feed your need for speed with our Miami jet ski rentals, take in a bird's eye view parasailing along the coast or just chill out on a luxurious and relaxing cruise, to name just a few fun things to do at Playtime Watersports.
Choose from our need for speed Miami jet ski rentals or with your feet in the air with a bird's eye parasailing in Miami you will want to put your experience on your list of top ten things to do in Miami.
Bring the whole family along for a day of watersports, like stand-up paddling, kayaking, aqua mat, aqua ring, and a whole lot more! Our Miami watersport activities are even available on our family friendly Summer Fun and on the Run Wild Miami parties, as well as on our Miami boat ride to Monument Island.
Call for Miami water sports packages prices
We also offer fascinating and exhilarating 90 minute Miami jet ski tours if you are in the mood for adventure. Be part of the action and feel the sun, surf and sea breezes up close on a state-of-the-art waverunner!
Curious to see where the rich and famous live and play in Miami? We'll take you on elegant Sunset Cruises around Miami to check them out up close, mega yachts and mansions and many other cool places included! Find out for yourself what makes Playtime Watersports the leader in fun things to do in Miami! Trust us, you will want to add Playtime Watersports to your list of top ten things to do in Miami!