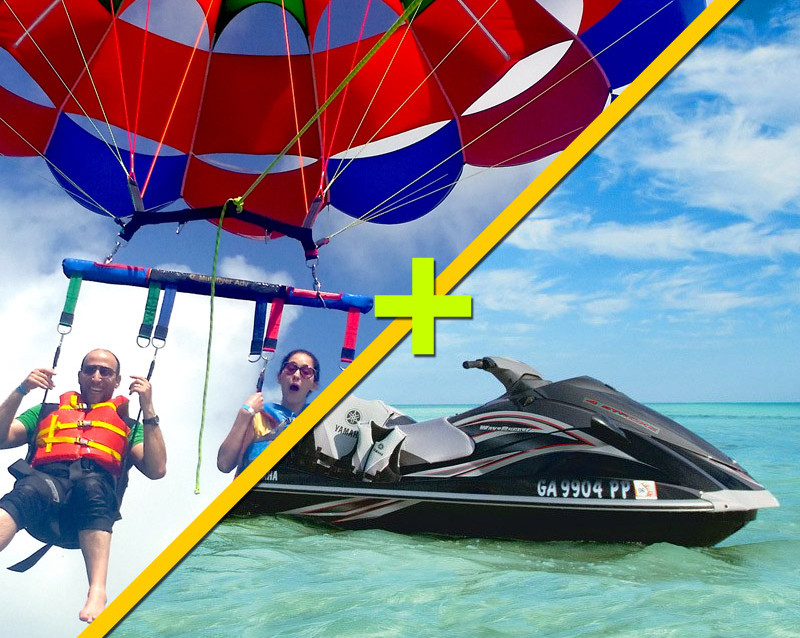 Get the ultimate adrenaline rush.
Our combo watersports package includes parasailing in Miami and Miami Jet ski rentals.
When you book with us you will be saving on some serious fun things to do in Miami.
The fun begins when you soar above Biscayne Bay parasailing Miami on state of the art equipment.
When your done parasailing Miami, your high performance Jet ski rentals will be waiting for you.
Create you own destination experience and discover why we are the leaders in Miami watersports.
Do I have to get wet while parasailing?
No, land and take off from the back deck of the boat. You never have to touch the water unless you want to get wet.
Do I need any skills to ride Jet Ski or Parasail?
No, all instructions are thought at the time of the tour.
Are there any age or weight restrictions?
Yes, you have to be at least 6 years of age. Anyone under 18 needs a parent or guardian to sign their liability waiver. Weight restrictions change according to the weather and captains discretion.
Jet Ski Riders borne after 1988 have to take a boat safety course at the time of booking
How many people can parasail at the same time?
Two or three depending on weight and wind conditions.
How many people can ride the Jet Ski
up to 2 people depending on weight & weather conditions
What should I wear to parasail and Jetski?
Whatever you want! But, we suggest bringing a towel or windbreaker.
Are passengers allowed while I am parasailing?
Yes, if the boat is not fully booked with fliers you may ride for a fee.
How long are the parasailing flights?
Parasailing flights are 7 – 12 min. Entire parasail boat excursion is approx. 1 hour duration.
How Long do I get to ride Jet Ski
This Package is for a 30 minute Jet Ski Rental
Do we need reservations for parasailing or jet ski rentals?
To insure you have 1st class experience reservations are required. You will need a major credit card to make a reservation.
Cancellation and refund policy:
Failure to cancel you reservation at least 48 hours prior to departure time either by telephone or email will result in your credit card being charged the full amount of the excursion. If the trip is canceled by Miami Ocean Water Sports for any reason, your credit card will be refunded in the full amount.
Weather Policy
Miami Ocean Water Sports will not depart in unsafe conditions, the Captain will assess the weather and should the Captain determine the conditions are unsafe to run the tour, the tour maybe postponed or it will be canceled. Every effort will be made to reschedule your ride during your stay. If we are unable to re-schedule your ride a full refund will be issued.