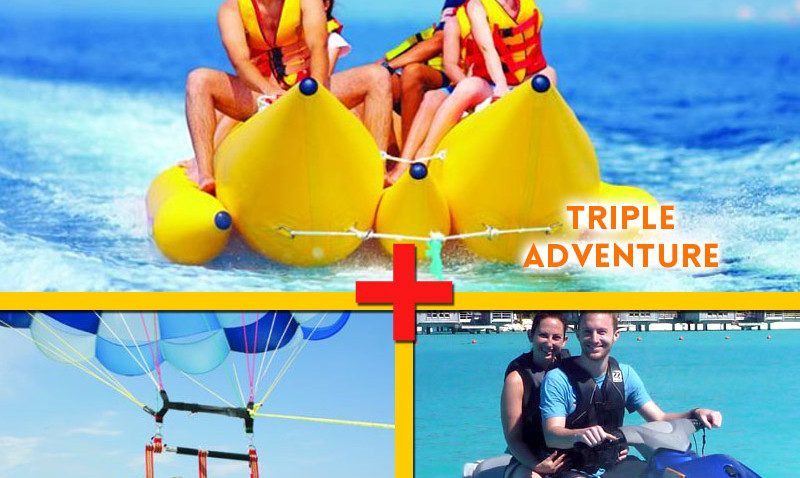 Categories:
Parasailing +Banana Boat + Jet Ski package
Can be split into two days
For a full day of adrenaline and adventure pick this triple play package which takes you from soaring through the heights of Miami to its waters at Key Biscayne aboard your own Jet Ski and an accelerating Banana Boat Ride. at the same time you will learn about Miami and visit the homes of the Rich and famous on a 30 minute narrated tour Your Jet Ski will be waiting for you for up to 2 people Jet Ski. When you book with us you will be saving on some serious fun. so don't wait any longer book this package today!
What does this price includes?
3 boat activities and they al come with Fuel, Captain and mate
Do I have to get wet while parasailing?
No, land and take off from the back deck of the boat. You never have to touch the water unless you want to get wet.
Do I need any skills to Parasail?
No, all instructions are thought at the time of the tour.
Are there any age or weight restrictions?
Yes, you have to be at least 3 years of age. Anyone under 18 needs a parent or guardian to sign their liability waiver. Weight restrictions change according to the weather and captains discretion.
How many people can parasail at the same time?
Two or three depending on weight and wind conditions.
What should I wear to parasail ?
Whatever you want! But, we suggest bringing a towel or windbreaker.
Are passengers allowed while I am parasailing?
Yes, if the boat is not fully booked with fliers you may ride for a fee.
How long are the parasailing flights?
Parasailing flights are 7 – 12 min. Entire parasail boat excursion is approx. 1 hour duration.
Do we need reservations for parasailing?
For large parties or busy season it's recommended but not necessary. You will need a major credit card to make a reservation.
Cancelation and Refund policy:
Failure to cancel your reservation at least 48 hours prior to departure time, either by telephone or email, will result in your credit card being charged the full amount of the excursion. If your trip is canceled by Miami Ocean Water Sports, for any reason, your credit card will be refunded the full amount of your purchase.
Weather Policy 
Safety is our top concern and as such Miami Ocean Water Sports will not depart in unsafe conditions. The Captain will do their best to assess weather conditions and should the Captain determine the conditions are unsafe, the tour may be postponed or canceled. Every effort will be made to reschedule your trip during your stay. If we are unable to re-schedule your trip, a full refund will be issued.
Info:
Flight Location Biscayne Bay view map
Jet Ski Ride Length 30 Minutes
Jet Ski price per jet ski Single , Tandem for 30 minutes
Banana Boat Ride 25 Minutes
Includes Fuel and Crew
Pickup Miami Beach pickup available (call)
1000FT of Line Parasail Flights.
Take off sitting and land sitting.  Very easy process!
Fly single, tandem, or triple (Captains discretion).
Get dipped in the water (Optional).
Life jackets and harnesses are provided.
Young et Ski riders need to take a boating safety test
Professional photography available!
License US Coast Guard licensed and certified captain and crew.
$169/person
For your Safety
**Parasail Riders must be six years of age or older (riders under ten years old must ride with an adult)*
Mix and match Individual activities
To make up your full day of adventure